As Afropop launches further into global prominence, its history and nuances require telling. We talk to media professionals Osagie Alonge, Obinna Agwu and Makua Adimora about how they approach this important task.
Afropop has been at the center of a huge conversation in recent times. Eighteen years after 2Face Idibia's "African Queen" captured the global imagination, the movement has written itself in the sands of musical history. An unprecedented level of global acclaim has followed its stars, becoming legitimate giants of the streaming era while making associative incursions into the world of film, fashion, and the greater spread of global popular culture.
Throughout this journey, the Nigerian music industry has been a great force of the movement. The West African country manages to produce fully-formed gems in remarkable time, ensuring they never cede the role of cultural propeller. With such feats comes the need to contextualize the Nigerian music industry's history, shining a light on the drivers for its success.
A renaissance has begun in the past three years, or about, as Nigerians are progressing from traditional media to tell the Afropop story. TV and radio are still very influential promotional tools, but they're rarely used to start in-depth conversations. The fresh faces of Nigerian creation have been varied but vibrant. Attuned to the ebbs of modern expression and the receiving audience, these are journalists, social media influencers, podcasters, YouTubers, documentary producers, authors, and so many others, creating and curating content which is primarily focused on detailing some aspect of Nigerian music, past or present.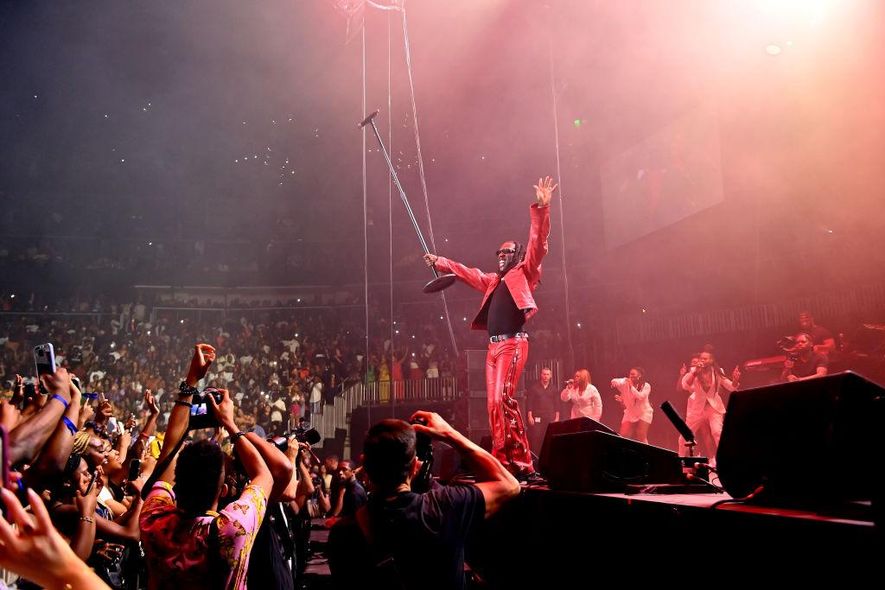 Burna Boy performs during the final stop of his "Love, Damini Summer 2022" tour on July 31, 2022 in Atlanta, Georgia.Photo: Paras Griffin/Getty Images
"I think more people are now focused on the art itself and not the celebrity side of things," says Osagie Alonge, the Director of Marketing at Kippa and the host ofA Music In Time podcast. When posed with the question of why the documentation is happening now, he says, "I'll just be a Nigerian and ask you a question, 'why not now?' We spent what? From 1999 till this very moment, and there's been a healthy and voluminous content to be covered."
He hints on the time factor. "Maybe twelve, fifteen years ago it was still budding, maybe the stories weren't being told then because people were still experiencing these things that we're journalling now. But over that period of time we've recorded quite a number of album releases, of events, things, people, places, that have shaped the music industry. So there's enough content to be covered."
Increased global interest and advancements in technology are also reasons he accounts for why more people are engaging in this cultural production. "It's easier documenting now," he affirms. Starting out in the industry as a music journalist in the early 2000s, Osagie has earned interesting information and stories about Nigerian Pop. Before A Music In Time, he produced the highly-opinionated Facts Only podcast. The newer show is less critical and heavy on deep cuts into the essence of an important album in Nigerian Pop. Some of the projects he and his invited guests have discussed—2Face's Face 2 Face, Timaya's True Story, Ice Prince's Everybody Loves Iceprince.
"I'm just an album guy," he says about the format. "I had new edition vinyls of '90s albums, playing in my house on Saturday morning. From then I've always just grown and I think you can tell better stories with albums than singles."
Osagie Alonge on The State of Nigerian Music
In 2019, Obinna Agwu needed to start a podcast he'd been thinking about for a long time. He didn't have a place to record so he reached out to Peedi Picasso, his friend and CEO of Aristokrat Records. "He was like, 'okay, come over to the office, let's talk about it'," said Obinna when we spoke. "They happened to also have a broadcast network called Midas Radio, and so we just got in business and started working together. Today Listening Sessions is forty episodes strong."
Obinna wanted the sessions to be a space "where people can share their wins and L's as honestly as possible. Not a judgemental space, not a space where the anchorman is trying to show off their knowledge, but a space where you ask the right questions in the right tone."
He's been in the industry for over a decade and his guests—most of them being his friends or people he shares a mutual connection with—are experienced players in the music industry and each season is carefully planned for maximum impact. "Across board, the intent is the same: unearthing actionable gems and forming industry stories for young music enthusiasts. Stuff that would inspire and educate."
His guests have included notable business executives like Godwin Tom, the founder of Music Business Africa (MBA); Muyiwa Awoniyi, Tems' manager and host of The Donawon Podcast; acclaimed entertainment lawyer Fawehinmi 'Foza' Oyinkansola; Mavin Records COO Tega Oghenejobo, and Elizabeth Sobowale, a creative strategist and this year's program director for the MBA.
It's enlightening how deeply Obinna enters every conversation. He doesn't squeeze for information; rather he teases, presenting himself as a wide-eyed student who only wants to learn. When I imply his background in management contributes towards his effective anchor skills, he replies: "Absolutely. I think so, because I've been around artists a lot. So even when I'm not consciously thinking about it, I'm in that mode where I just bring all those experiences together and know how to navigate those conversations."
Earlier this year in June, Netflix finally premiered the debut episode of Afrobeats: The Backstory. The 12-episode documentary from Ayo Shonaiya soon became the object of much discussion, but the project was quite good as it used footage and stories from Shonaiya 'simportant media work in the United Kingdom as an entry point into Nigerian music history.
After a week of the Netflix release, the pilot episode of Showmax's Journey of the Beats'premiered. It was produced by Obi Asika, a cultural entrepreneur and solid OG of the Afrobeats' first wave in the 2000s. He was more invested in charting the sonic journey of "Afrobeats," a term that's been the subject of much debate, and he did so from the origins of traditional music. In several parts of the doc, the phrase "Nigerian Pop" hints at non-inclusivity, to correctly point out that even though Nigeria is a de-facto creative headquarters, it doesn't cover the entirety of the sounds being created around the continent.
"I'm happy they're being released," comments Osagie on the documentaries, before saying, "we're already seeing reactions to people saying, 'oh, that's not what happened' or 'why are they leaving out certain parts of the stories'? While I believe that we should try as much as possible to be accurate, I also feel like we're so far gone and so far back that any stories that can be told, as long as you're not lying, should be told and deal with some things not being included."
The entry of international collaborators however calls for caution, perhaps as much as celebration. "We've not had structure for a long time, so because of that there's a lot of leeway for people to manipulate to fit their own definition basically," says Makua Adimora, a UK-based culture journalist. "We're already seeing this in the nomenclature of the genre itself; the debate about Afrobeats versus Afropop. First of all, there's nothing like Afrobeats, literally. But then, just like that Grammy article that came out; it's little things like that, and especially now that the Western world their eyes are really on Afropop, they are going to want to absorb it into their own."
The mentioned Grammy article published five "rising subgenres" of Afropop and listed the likes of Ndombolo, Afro Swing, Soukous, Amapiano and Alte underneath. Following outrage from Africans on social media, the headline was edited to "reflect these genres' African origins and status as standalone genres."
"That is usually being done," explains Makua, "because they are trying to translate our stories to suit the foreign audience. And obviously, because they're not from here they can't tell those stories with nuance. That's how misinformation spreads and that's how history is being rewritten before our very eyes. It's important for us to tell these stories ourselves because we're the only ones that are on-ground, we know the context and we will shape these narratives."
A lot more can still be done to sustain these individuals taking on this mission, especially considering the debilitating state of the Nigerian economy. "We need to give them more resources and fund them," agrees Osagie. "You have TurnTables chart which is the only valid charting system in Nigeria, and it's a young guy from a university in the Southwest that's running it. He needs resources, he needs to hire staff to create content and to document these things now, right? You have platforms like Album Talks, WeTalkSound, The 49th Street, who have been consistent with curating so much Nigerian music. We need to encourage and develop resources for these people. Do we have incubator platforms where these people can come in—even if it's office space, access to wifi and technology—that they can use to build their own platforms? That's how we can encourage these people."
Source: https://www.okayafrica.com/