Saudi Arabia's NEOM has unveiled a glimpse of its new sustainable tourism destination Leyja, which will be home to three boutique hotels led by luxury hospital group Habitas.
Speaking in a press conference in the metaverse, Habitas co-founder and CEO, Oliver Ripley, said workers will break ground on each of the three hotels – which will each have 40 rooms – early next year, with the properties to open doors to its first guests in 2028.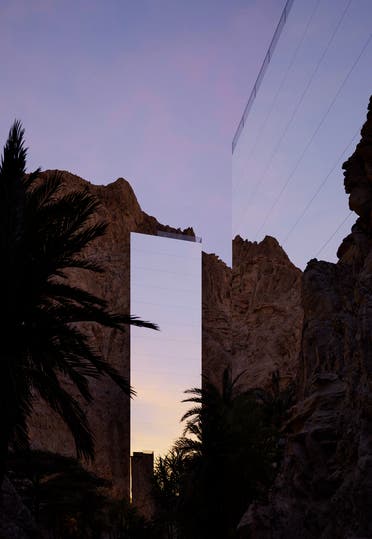 Bringing to life Leyja's luxury eco-tourism vision, the destination has been developed within a natural wadi and carved between 400m-high mountains in the Gulf of Aqaba coast and winding inland.
The hotels will feature 120 rooms and suites split equally across the three properties, the Home of Adventure, Oasis, and a Home of Wellness.
The design for the Home of Adventure, said Ripley, traces the topography of the wadi and forms an out-of-this-world appearance, allowing guests to embrace rock climbing, mountain biking, horseback riding, and multi-day treks.
The deconstructed design ascends the walls of the wadi like a staircase, its structure effortlessly tracing the topography with minimal disturbance of the terrain's natural lines.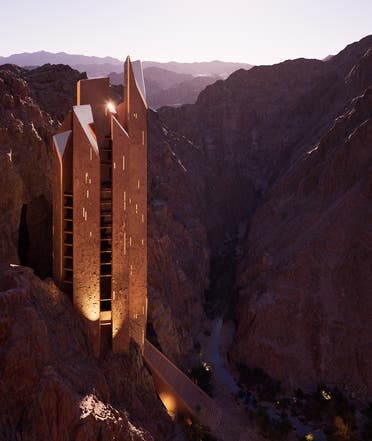 Situated further into the wadi, the Oasis is a property that rises alongside the mountains to sit prominently at the heart of the wadi's largest oasis, and will offer guests stargazing rituals and a culinary experience, including a Chef-in-Residence program.
The final hotel within Leyja aims to be a restorative retreat for guests. The Home of Wellness will "play host to global longevity experts while blending innovative wellness practices with ancient rituals."
Ripley said, once completed, guests will get access to Habitas' signature experiences– including intimate concerts, immersive art walks, and pop-up culinary experiences.
Wellness facilities and rooftop infinity-style pools across the three properties are also key features.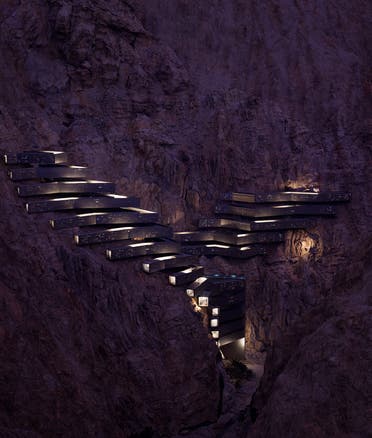 "This project is truly unique and visionary. The natural beauty is otherworldly, the architecture and design remarkable, and the experience will offer our community an ever-deeper journey of discovery and transformation," according to Ripley.
"I think when we build a partnership, we look for brands that share our vision in trying to redefine the future of hospitality. And what I found with Habitas is that they have such an amazing, proven track record of bringing fresh, creative, and bold thinking to the table. When you take this ethos and combine it with a stunning destination like leisure, we believe that each hotel will help our guests discover unforgettable experiences and this will be in complete harmony with nature."
"We believe in providing guests with luxury for the soul. Our brand essence is really around human connection at its core. And this is powered by experiences in music, wellness, adventure, food, learning, and giving back, which we truly know resonates with NEOM," he said.
Aligned with NEOM's strategy to designate most of its land across its destinations and cities as a nature reserve, 95 percent of Leyja will be preserved for nature and will combine innovative, ecological design and construction techniques to ensure the development seamlessly blends into the landscape.
Chris Newman, executive director of NEOM Hotel Division, added: "Our Habitas successfully pushes the traditional limits of hospitality and offers inclusive experiences that engages guests' imagination. Visitors to Leyja can expect to be enchanted by Habitas with a personalized experience, supported by the wider NEOM tourism infrastructure."
Jeremy Lester, NEOM's Executive Director of Gulf of Aqaba, emphasized the resorts' unique location, nestled deep within the winding wadi that traverses from the stunning coastal waters to the inland mountains, a place steeped in history and mythology.
The project architects have gone a step further by creating a "digital twin" of the luxury resort, a cutting-edge technology that meticulously maps the destination's landscapes and architecture on a single collaborative platform, facilitating real-time exploration of various ideas and solutions for sustainable design and operations.
Leyja builds on NEOM's ongoing commitment to becoming a multi-faceted destination and supports the Kingdom's efforts to build a strong and sustainable tourism industry under Saudi Vision 2030.
Leyja is NEOM's latest development and follows the announcement of the project's flagship regions, including vertical city THE LINE, business hub Oxagon, luxury yachting destination Sindalah and the mountain resort of Trojena, which will all be powered entirely by renewable, clean energy.
Source:english.alarabiya.net